There I was, riding through Venezuela. The first day, the first impressions, the feeling of not knowing what you are getting yourself into and... being all by myself. Not being able to share these moments with Azure was weird. I found myself talking to the camera a lot this first day. I rode through the small town of Paraguaipoa and learned that signage was not abundant, or rather, not there. I asked some people for directions and everyone, including the police, was happy to help. As I got closer to the Gulf of Venezuela the wind picked up and beautiful white salt flats backed by sand dunes formed the horizon. The native people lived in wooden shacks on the side of the road. They made their living by collecting and selling salt, with donkeys being their main means of transport.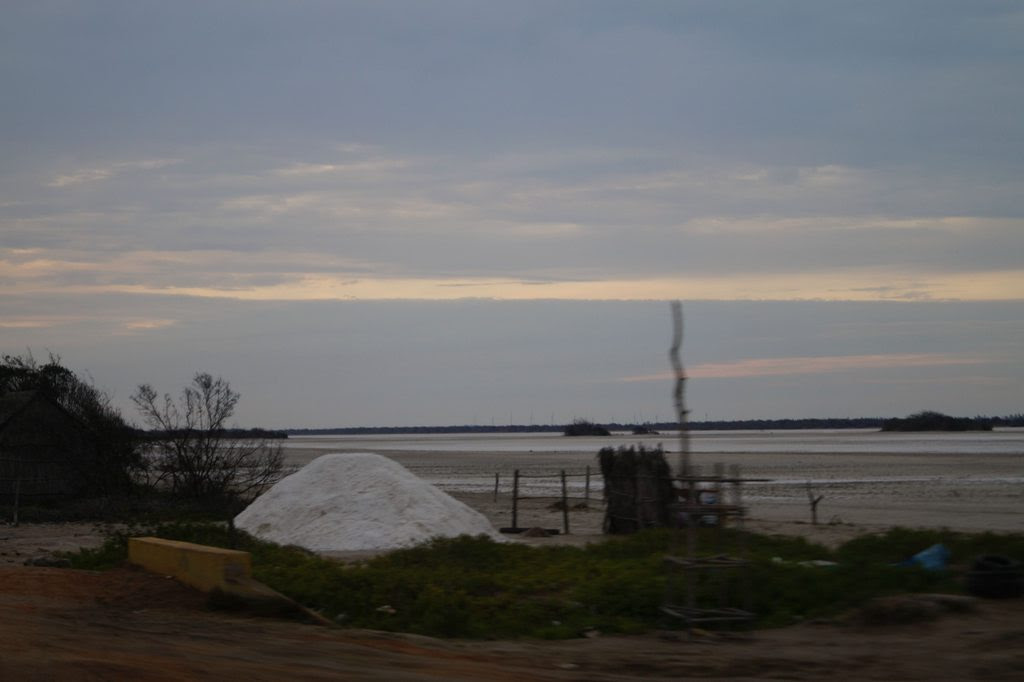 The result of a hard days work collecting salt.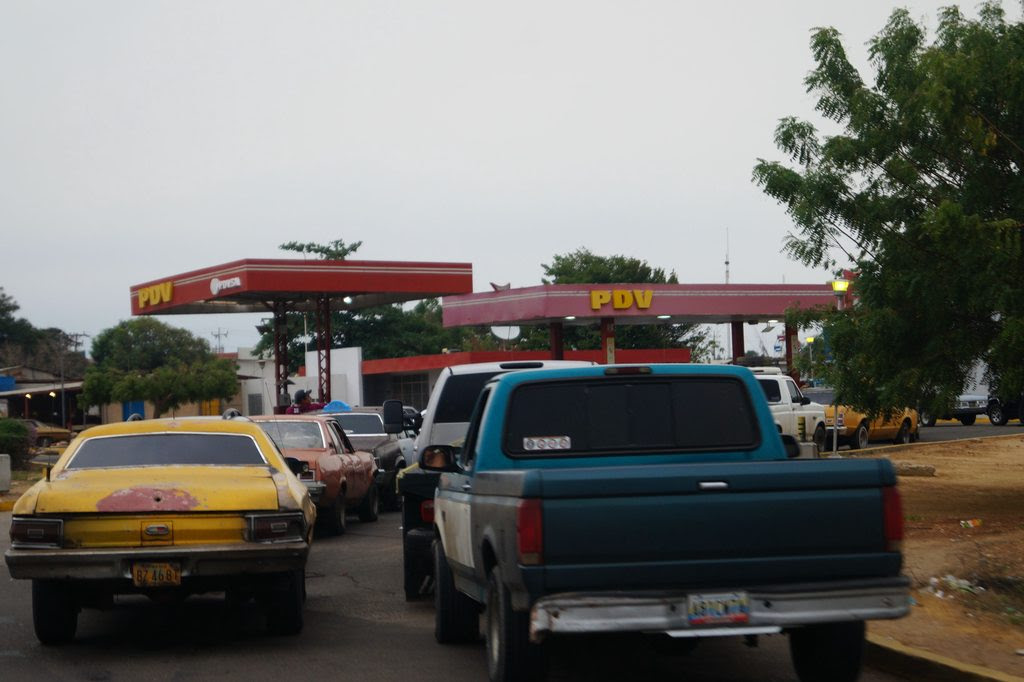 Gas station Lineup...

I was told to get my Venezuelan third party insurance at a gas station in San Rafael. I spot the little "seguro" shop behind a long lineup of vehicles in front of the gas station. I'm glad I filled up my tank for a higher rate at the border. The youngsters that are running the shop are very helpful and while we talk first impressions and politics they sell me an insurance for a year for a dollar and a half. They realize that I am shocked by how cheap it is and joke about there being positive aspects of this socialist government as well.
The Seguro shop where I got my Third Party Insurance.

It is hot, extremely hot, as I get closer to Maracaibo. The side of the road is covered with garbage. Traffic consists of very old and rusty gangster style cars, old overloaded trucks and horse drawn carriages. There is still no signage and the only way to go is to keep asking people for directions. Finally a bus driver tells me to follow him to the center of town where I will be able to get on a highway. I tag along and enjoy being able to look around for a bit. People look surprised as I ride by, some of them pointing at me and staring me down. Apart from being alone I am having a great time.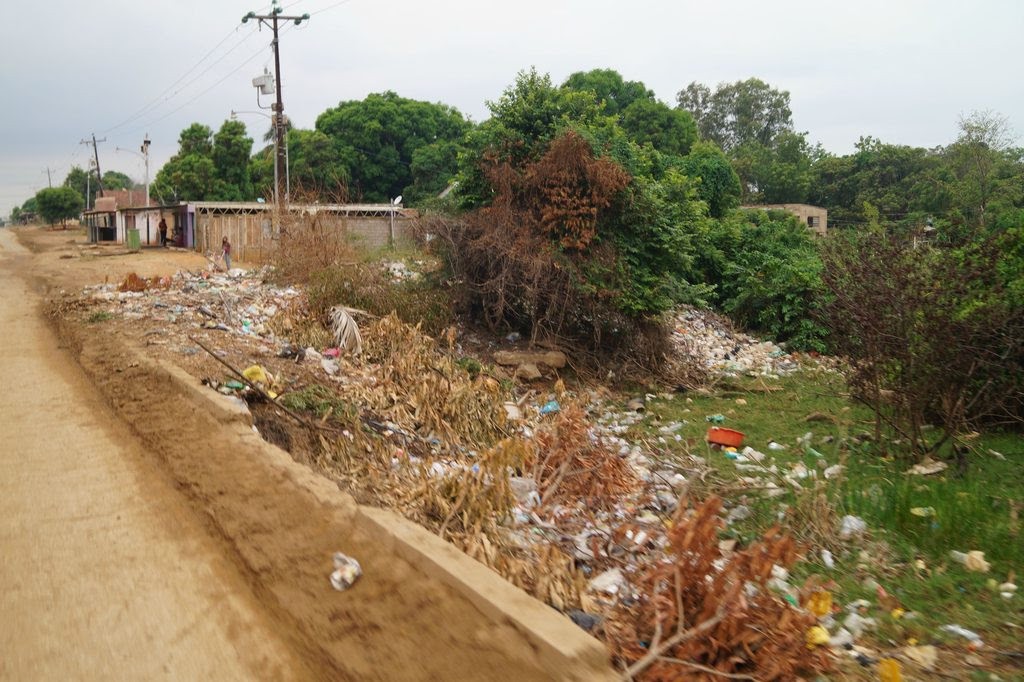 Garbage everywhere... There is simply no system in place to collect it in most towns.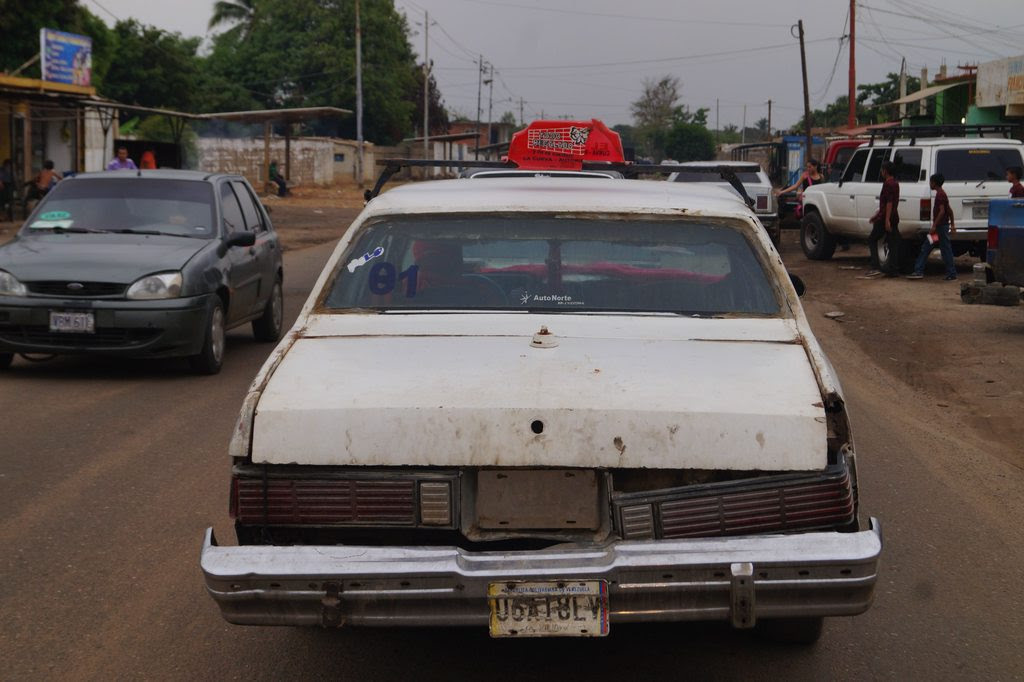 The most common car around here.

The bus driver signals for me to come along side and gives me his final directions. I should have studied harder the last two days. I only get half of what he says as the light turns green and he speeds of leaving me in a big black cloud. Great! I keep riding and end up on top of a hill. In the distance I can see a long bridge. It has to be the bridge over Lago de Maracaibo. I finally know where I am going. Sort of... I somehow miss the turnoff and end up riding past the massive structure. When I realize this I ride past a McDonalds. I had not eaten all day. I tried to resist but after looking at the sun I realized I did not have a lot of time to get over the bridge and out of the city and hopefully find a good place to sleep.

I ride into the parking lot and a guard armed with a shotgun comes out and gestures to park the bike in a spot he could see from his spot at the door. Serious stuff, going to McD's. They welcome me in and start by telling me about everything they have run out off. Wow. Half the menu is not available. I ask why this is the case and the reply simply is that they could not buy what they needed. I ordered a simplified burger, half the ingredients were not there, a coke and fries. The fries were Yucca fries as potatoes were not available. I instantly regret killing my dads Yucca plants when I was young because it's thorny leaves had almost poked my eyes out. The fries, made out of the roots are delicious! After many chats with people who were interested in the journey I walk back to the bike, tip the security guard who gives me perfect directions to the bridge and ride off. The Sun is setting.

Gusts of wind push me all over the place. It is a long bridge and there is a lot of traffic. I am happy to be on the other side. I am even happier to see my first Venezuelan love hotel. With the Sun going down behind the smog of Maracaibo I opt for the Second Love Hotel. There was no wifi but for 5 dollars I have a bed for the night and more importantly, the bike is in a closed garage right next to my room. I have not been able to find a Sim card for my phone. This simply seems to be too difficult to get for a foreigner. Not being able to tell Azure how things went I push the OK button on the SPOT and know she will zoom in on the SPOT map and work out that I am spending my first night in a Love hotel. It crosses my mind that she would probably be the only girlfriend or wife in the world that would be happy to find out her other half would be in such an establishment. It makes me smile for a second, only to be reminded that I will be sleeping in the massive bed by myself that night.